I'm getting this post up way later than I would have liked...by now, most of you have posted about your fabulous V-day cards from the Geek Girls x Bloggers card exchange, but I swear I have a good reason for the delay. I spent Saturday with my sweetheart at The Huntington, which was pretty much the most gorgeous place I've ever visited! I can't believe I've spent my whole life in Southern California without checking that place out, so kudos to my hubby for planning a fantastic date day<3 I basically spent Sunday recuperating and writing this post, but I'm going to bombard you all with pictures during my (again, delayed) A Day in the Life post on Wednesday, so I apologize in advance=P
But anyway, this is the second awesome exchange that I got to participate in for Valentine's Day with my favorite blogging group,
Geek Girls x Bloggers
. The first was our
Undercover Cupid
gift exchange hosted by Danielle of
From Girlie to Nerdy
, which I
posted
about a few days ago. This super fun card exchange was organized by the lovely Dina of
Dina Farmer
. I had such a blast choosing my cards to send out and receiving so many adorable cards in return!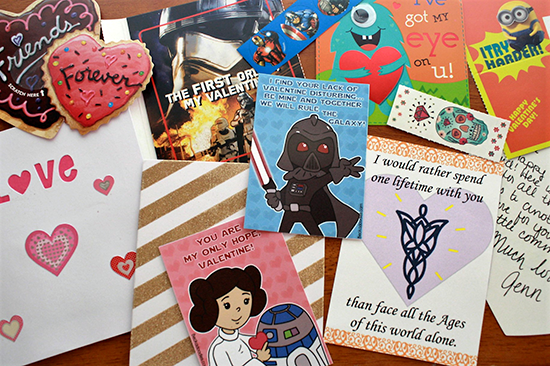 So many cute and unique cards! I love seeing the various fandoms come together, too. But I did, of course, enjoy getting so many cat cards: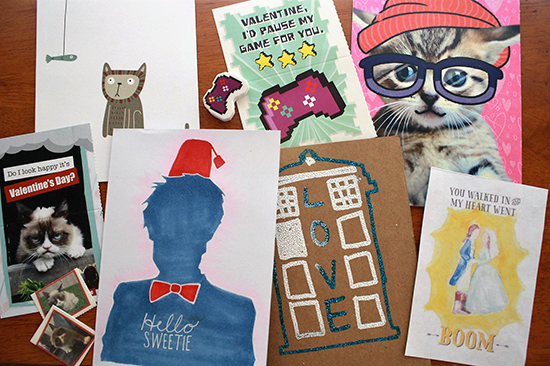 Tee hee! That hipster cat especially is just PERFECT. And I was blown away by the handmade cards I received! So many talented ladies, am I right? Not gonna lie, I'll probably end up framing that Hello Sweetie card by
Kayly
because it's absolutely gorgeous! I'm so grateful to be a part of such a fun community. I've said it before and I'll say it again, I don't think I'd enjoy blogging nearly as much if I hadn't stumbled upon this group of gals.
I also wanted to share a quick peek of my first ever
Fandom of the Month Club
box! If you haven't received your February box yet and you don't want me straight up spoiling the contents for you, I'd skip this last photo...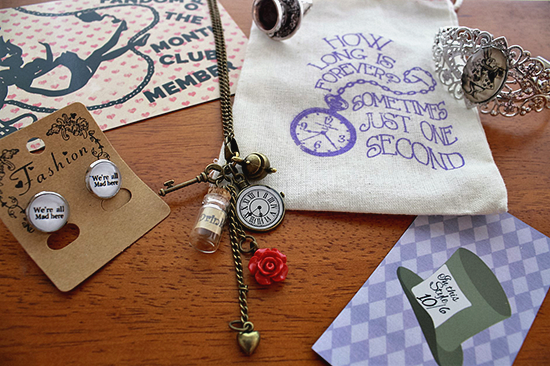 Alice in Wonderland themed?!!! So perfect for my first box! The charm necklace is my absolute favorite piece, the tiny 'Drink Me' in the bottle just kills me. I think the 'we're all mad here' earrings will get a lot of wear...I mean, they're perfect for someone who works at a Superior Courthouse, we're all pretty mad to put up with so much crap on a daily basis. I probably won't wear the teacup ring or the White Rabbit cuff much, but they're still adorable and will look great on display! Overall, I'm very pleased by my first month of FotMC and I definitely plan to stay subscribed, at least for a while.
Are any of you subscribed to the FotMC box? Is there another subscription box that you highly recommend? I've done LootCrate, which I LOVED, but that's the only other monthly sub I've joined in on. I'd love to try out some more!