I had such an amazing birthday weekend! I didn't end up getting to see my best friend, which was a bummer, but I did get to spend my time relaxing in Central California with lifelong family friends. It was beautiful and rainy and just what I needed!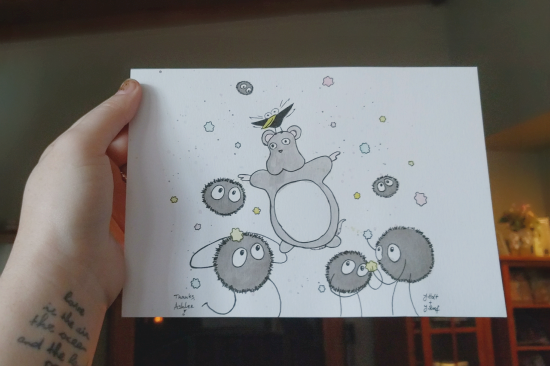 I came home to this gem of a drawing from Jessica and Jonas of
Corgi Corn Core
! Jessica shared a picture of the finished piece with me back in early December and I couldn't wait to show it off! I scored this as a thank you for sharing their Twitter promo (which i happily did because duh, they're awesome!) and I'm so in love with it. If you haven't checked out their
website
, you definitely should! They collaborate on most of their work, which I think is way cool. They describe themselves as "having an affinity for the absurd, silly, and sometimes macabre types of art" and you can definitely see that reflected on their site! If you like offbeat and maybe even a little dark humor, you'll love these guys.
If you didn't already know, I'm a huge Miyazaki fan. I mean, that should be obvious by the use of susuwatari (soot sprites) throughout my blog design, but I figured I'd point it out just in case:P This sweet drawing of Boh and Yu-Bird inspired me to scour Etsy for other adorable Spirited Away goodies!
Spirited Away was the first Miyazaki film I ever saw, so it holds a special place in my heart. It isn't my personal favorite, but it's definitely up there on my list of all-time best movies, and I'll always love me some No-Face<3 This is just a handful of the cute stuff I found!
What's your favorite Miyazaki movie? Do you remember the first Miyazaki film you saw? They're all so dang good! Except...I do fall asleep every time I try to watch
Porco Rosso
. Any one else have that problem?